If you would like to register your child with Butterflies, please complete the form below and we will call you to arrange a viewing. Should you wish to you enrol your child at Butterflies following your visit, we will ask you to pay a non-refundable enrolment fee of £150.00 to secure your place. This fee includes 12 hours of settling in time as well as enrolment administration charges. For all other enquiries, please use our contact form.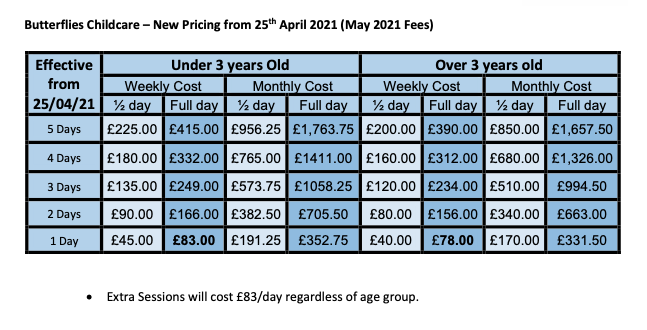 All fees are paid one month in advance and on the 25th day of each month. Charges are calculated on a weekly basis and multiplied by 51 weeks and divided by 12 to arrive at a pro-rata monthly fee. We do offer a discretionary sibling discount of 10% on the eldest child's fees, however the children must both attend nursery for more than 3 full days. The nursery is closed for Bank Holidays, the Christmas Period and on 3 INSET days throughout the year and these days are included in the fees. Unfortunately, the nursery does not offer discounts or refunds for family holidays booked throughout the year. (The fees below are effective from 25th September 2020)

Come and join the Butterflies family for complete peace of mind.


Join our mailing list to keep up-to-date on the centre news.